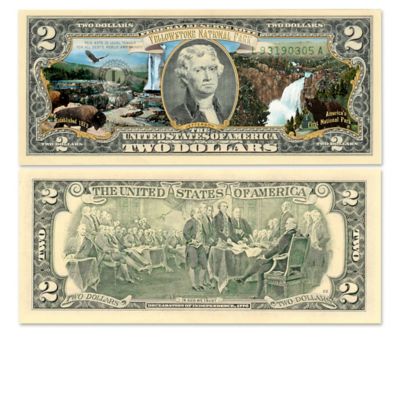 Official U.S. $2 National Parks Bills Currency Collection by The Bradford Exchange Online
Discover breathtaking American beauties with a rare currency collection that honors our national parks with brilliant color art from the Bradford Exchange Mint upon real U.S. $2 bills. $2 bills are rarely-circulated collector favorites, which is why The Bradford Exchange Mint is so pleased to present the Official U.S. $2 National Parks Bill Collection. Your "tour" begins with Issue One, Yellowstone National Park $2 Bill. Soon, your collection will continue with Issue Two, Everglades National Park $2 Bill, Issue Three, your FREE deluxe wooden display box, and additional genuine $2 National Park Bills, each a separate issue to follow.‡Each $2 National Parks Bill in your currency collection features a portrait of President Thomas Jefferson and showcases the wonders of a different national park. The reverse of each U.S. $2 bill features its historic portrait of the signing of the Declaration of Independence. To protect your national treasures for future generations, each crisp, Uncirculated issue is preserved within a crystal-clear holder. Our purchasing agents have gone to great lengths to secure these National Parks bills, and availability is strictly limited to 5,000 complete collections. So don't miss out, order now!
Price: $
24.95
Condition:
new
Thank you for shopping with the Lovely Exchange, the best place to find unique gift ideas.