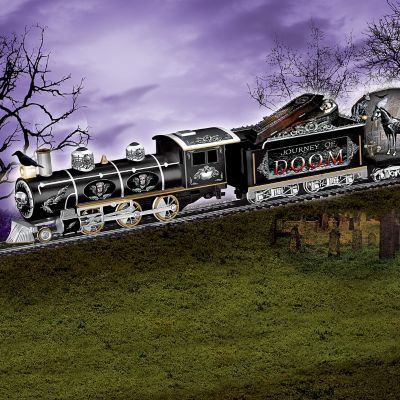 The Journey Of Doom Express Gothic Electric Train Collection by The Bradford Exchange Online
All aboard! Time to start your gothic one-way journey aboard the most ghoulish electric train to enter this world in quite some time, if you dare! Introducing The Journey of Doom Express Train Collection, exclusively from The Bradford Exchange, Hawthorne Village Division. Your terrifying trip starts with Issue One, The Raven Steam Locomotive. Next to give you the frights will be Issue Two, the Journey of Doom Tender and FREE Track, Speed Controller and Power Pack. Soon your ghostly collection will continue with Issue Three, Haunted Hallows Flat Car with Horse-Drawn Hearse, and additional frightfully delightful train cars, each a separate issue to follow.‡Halloween or year 'round, there's nothing like a wickedly macabre train trip to sooth your inner Goth! Every car in this heirloom-quality electric train features a wealth of devilish details and decoration, all handcrafted and hand-painted. From the glow of blood-red eyes to the dark antiqued finishes, no opportunity to bewitch you has been spared. You're certain to feel a chill down your spine the moment you see the eerie glow of this illuminated gothic train collection as it glides down the track, but demand is expected to be frightening, so don't delay! Order now!
Price: $
79.99
Condition:
new
Thank you for shopping with the Lovely Exchange, the best place to find unique gift ideas.